A few weeks ago my partner Rob Shibley was telling me about his awesome new Alienware setup.  Rob went into how his work efficiency changed overnight.  Instead of waiting in pain for 30 seconds while his Outlook loaded, it now loads in less than a second.
As I listened I felt insanely envious of his new setup.  My HP laptop was plagued by slowness.  Two years ago it was a pretty good computer, now it's a dinosaur.
I visitied Alienware.com and ordered a top of the line laptop – custom made with all of the bells and whistles.  Two weeks later it came in and I powered it up: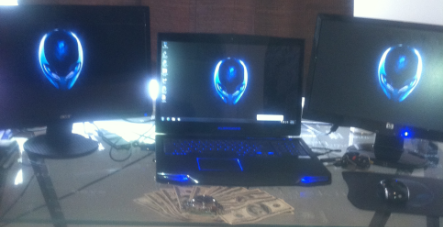 It is AWESOME!!!!!!!  Alienwares are the highest end laptops money can buy.  Typically used only by hardcore gamers, Alienware laptops are equipped with the best of the best technology.
Rob is not a gamer.  He told me that he views business as a game, that's why he bought an Alienware.  Good point Rob!
My new Alienware laptop is out of control.  It takes less than 5 seconds for Windows to powerup and start programs instantaneously.  Here's a few of the benefits you can enjoy with a top of the line Alienware laptop:
1.  Save Time
Don't wait on your computer, have your computer wait on you.  Those seconds wasted add up to minutes.  Minutes add up to hours and hours add up to days.
2.  Make More Money
Faster computers allow you to get more work done in a shorter period of time.  Your efficiency will increase manifold.   In return you'll make more money.
3.  Less Aggravation
There's very few things more aggravating then having to wait on your computer between tasks.  If you've ever found yourself getting frustrated over program crashes or slow computer speed, put an end to it today.
Maybe your working with a "good enough" computer today and just aren't ready to make the investment.  No problem.  I suggest you set a business goal that is achievable in the near future.  Once you hit that goal reward your business and yourself with a state-of-the-art computer.
P.S.  My next investment in technology is a Dell Precision workstation.  I sync up my devices through SugarSync.com so I can literally access my desktop from any machine I use.  All files are synced and shared.
Before I pickup the Precision, I have to hit a business goal.  The goal is 2,000 leads a day on one of my clients campaigns.  When we hit it here's what I have lined up: