A few months back I posted a list of highly recommended books for direct response marketers.  In reality, the list was more focused for entrepreneurs and marketers in general.   Today I read a blog post on the article: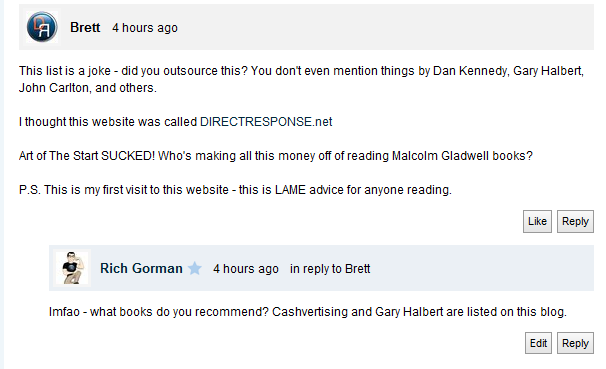 I shot Brett and email as well after I posted his comment.  If Brett had a good list of books tailored for direct response marketers, then we want it.  Here was the email I received back: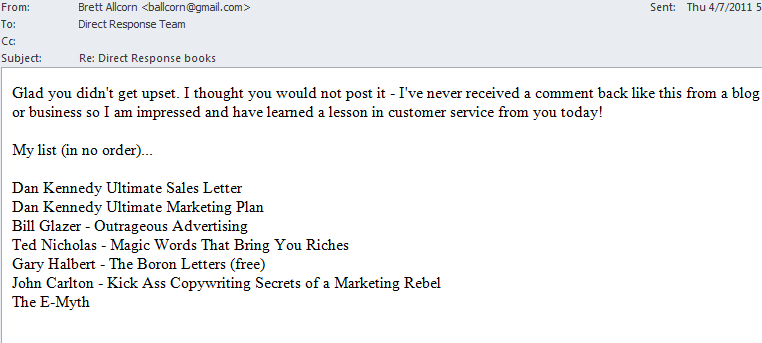 Brett brought up some really good direct response names, some of which I didn't know had books.  I knocked the E-Myth off the list and added the best direct response book I've read to the list, Cashvertising.  I also updated the old book list.
Here's the list:
1.  Cashvertising, by Drew Eric Whitman.  Cashvertising shows you how to use more than 100 secrets of ad-agency psychology to make big money selling anything to anyone.  This is my personal favorite direct response marketing book.
2.  Dan Kennedy, Ultimate Sales Letter.  A powerful sales letter is the ultimate marketing tool for all types of business owners, sales reps, and advertising professionals. However, most sales letters end up getting tossed in the junk mail pile. The Ultimate Sales Letter, 3rd Edition shows you how to write letters that get read, generate leads, and make money.Coverage includes:
The twelve best headline formulas
Strategies for building a customer base
Sales letters for Web sites and online use
3.  Ultimate Marketing Plan, by Dan Kennedy.  Find Your Most Promotable Competitive Edge, Turn It into a Powerful Marketing Message, and Deliver It to the Right Prospects
4.  Outrageous Advertising, by Bill Glazer.  Created for the 99% of Small Business Owners Who Are Dissatisfied with the Results They Get.
5.  Magic Words That Bring You Riches, by Ted Nicholas.
6.  The Boron Letters, by Gary Halbert (free).
7.  Kick Ass Copywriting Secrets of a Marketing Rebel, by John Carlton.  John Carlton is "The most ripped-off and respected copywriter alive."
————————————————————————————————–
Crush Your Competition.  Build Your Own Direct Response Campaign With Us.
Contact Us Directly: [email protected]/backup_22092016