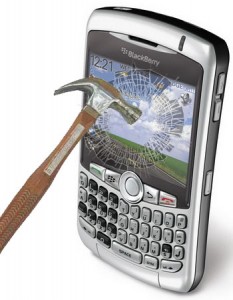 It's so easy to get caught up in the daily doldrums of our lives.  We get slammed busy, taking on one herculean task after another.   From the time we awake to the time we hit the hay, the more successful you are the less time you have to waste.
That's why it is so important to take down time to reflect on life.  For me, this past holiday season presented the perfect opportunity to scrutinize my business routine.
One area I identified as a major weakness was the constant calls I took during the day.  I would literally take 20 calls in an hour, many from overly needy, low profit clients.
My productivity was getting killed by the constant barrage of calls and emails.
My New Year's resolution this year was to create a not-to-do list.  Part of that list was to stop taking calls during the day – I make them, just won't receive them.
Talking on the phone non-stop was as much a part of my life as eating and sleeping.  Truthfully, I was hesitant to take the leap to no incoming calls whatsoever during the day.  After all, it's in our human nature to avoid change.  We're creatures of habit!
Keeping true to my nature, I took myself out of the comfort zone, as my good friend Hersh Sandhoo calls it.  I hired an answering service and forwarded all of my numbers to it.
The actual shift happened right before I went to lunch on 1/10/11.  On my walk from the office to the sushi joint, something felt different.  What was it?  All of a sudden shops started popping up that I'd never noticed.  Things in town I'd never paid heed to became ever so apparent.
What happened was that my undivided attention to call after call was no longer needed.  For the longest time I had been slave to my cell phone, getting completely absorbed in conversations at others wanton desire.   Do you know the feeling?
And results of this lifestyle change?  How about the fact that  I've had the 2  most productive weeks of my professional career.  Projects that I've had in queue for months are knocked out.   I'm getting more done in 1 workday than I was in an entire week before.  The calls I'm taking now are the ones I'm making.
If you're looking to dramatically improve your productivity, forward all of your calls to an answering service.  Stop being slave to your cell phone.  Regain your peace of mind 🙂