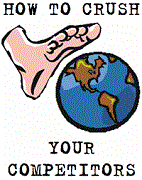 Welcome to the official online direct response marketing blog.  I created directresponse.net/backup_22092016 with one goal in mind – to teach you how to crush your competition.  In the world of direct response marketing, second place is the first loser.   With rising media costs and a lowering barrier to entry, there's no longer a place for a "pretty good campaign."  You're either the best or you're nothing!  It's that simple.
directresponse.net/backup_22092016 is geared toward the seasoned online direct response marketer.  If you're a beginner you may get confused by the dr vernacular used on this site.  Please reference these 3 sources to learn a little more about the industry:
1.  Clickz
2.  ShoeMoney
3.  Hub Spot Blog
Chances are that you will lose in this game.  Over 98% of online direct response campaigns fail within the first year.  That's a staggering number!   During the past 10 years, I've witnessed guys make hundreds of millions of dollars only to lost it all and go to prison – usually due to greed.  On the extreme other end of the spectrum, a lot of people have entered the game and lose their ass – usually due to lack of tenacity.
There's a happy medium to all of this, where you can earn millions, crush your competition, and avoid going to jail or losing your house!  That happy medium is one that my clients continue to enjoy on a daily basis, and one that you too will enjoy as we learn more about how to crush it in the online direct response industry!