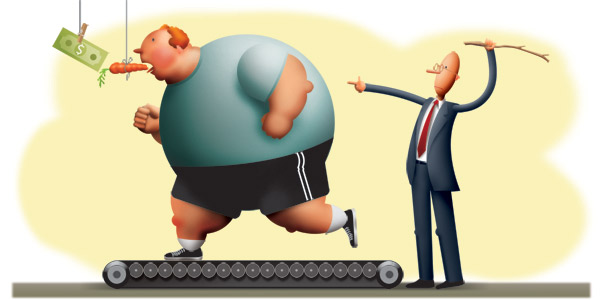 Chances are that you've dealt with that client that calls you with "just 1 more thing."   As soon as you hear it you get that pang in the pit of your stomach.  The feeling is a cross between resentment and anger. 
The "1 more thing" happens all the time in business, especially when you have a value added service and your clients aren't seasoned in your industry.  Naturally clients will have a lot of questions and need your help.  
The good news is that you are able to answer all of their questions and help them with everything they want.  In fact, from this moment forward, so long as you follow these tips, you are going to be very excited to answer the "just 1 more thing" they asked you for.
1.   Set An Hourly Rate. 
Set an hourly rate.  Then charge for every second of your time.   Make sure every second you spend on a clients account is documented.  It is your duty to provide your clients with a report upon request.
So, when you send an email out, charge it for .15 of an hour.  If you hop on the call or chat with them on aim, time it.   An easy way to document time is in Excel.  There are also software programs that attorneys use to document time that are even more effective.
If you are working on a set fee, add an addendum for an hourly rate of support.  If you offer free support, create a premium support fee.
It is paramount that you outline the exact services and cost upfront.  Avoid ambiguities.  If a client asks for something outside of the scope of the project, feel humbled that they've come to you for guidance.  Guide your client and enjoy the payments for your time.  
2.  No Freebies.
No matter what, do not give out your work for free.  What has taken you years to master will get delivered to your clients in minutes for a nominal fee.  If you're good, then your time is worth a lot of money. 
Your client is not your friend – not when working at least.  There are no friends in business.  There are alliances, but at the end of the day good businessmen make sound decisions based on logic, not emotional attachments. 
If you feel that you ought to assist a client with an aspect of the project for free, then do so altruistically.  You ought to feel good about it in your heart if you decide to assist without charge.  Do not feel obliged to work for free just because a client has requested it and is already a good paying client.  Add value to their campaigns and charge for it.
i.e.  My friend Jeff owns a web design and SEO firm.  A few months back Jeff started to get bogged down with work.  The turnaround times on projects seemed longer and longer, while the quality just dropped lower and lower with every subsequent project.   I reached out to Jeff and offered to pay a premium price for top priority on the work we sent him.  It took Jeff a few days to get back to me and when he did, he was scatterbrained.
I dropped Jeff from our trusted vendor list and start sending the work to other designers.  We were by far Jeff's largest client – billing out hundreds of thousands of dollars in referrals we sent him.  A few weeks ago Jeff reached out to us and asked what happened to all of the leads?  Were we still doing ok in business?  I've yet to respond to his email – it's not worth the time as the new designer is doing a much better job than Jeff ever did.  Oh btw, the new designer charges for every second of his time.  
3.  Focus On Clients That Make You Money
There are core groups of clients that are in-it to win-it.  Focus on this group.  They are glad to pay you as they truly respect your time. 
4.  Cut Clients Off That Waste Your Time
If a client starts to waste your time, starts nickle and diming you, summarily cut him off.  These leaches will suck you dry.
Look, I personally don't give a shit if a client can't pay and I certainly don't want to hear any reasons (excuses).  If the client can't pay or doesn't want to, we send them packing:)    We have loyal clients that each spend millions of dollars a month in the direct response space.   Other clients are less capital intensive however are 100% devoted to succeeding in this space.   Those small accounts eventually become large accounts.
Oh yea, just 1 more thing, do me a favor and KILL IT in your career.  While money doesn't buy happiness, it sure as hell helps!!!
Oh and just 1 more thing, if you're maximizing your time please post a comment and share with us how you do it.  We can learn a lot from you.  Please share it with us!