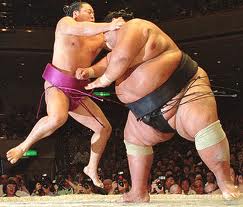 It's Wednesday morning here in good ole Las Vegas and I'm about to hop on a flight back to Philly.   When I woke up the first thing that hit my mind was how so much  the affiliate marketing industry has changed in just 1 year.   For those of you that attended the Affiliate Summit conference last year, you know exactly what I'm talking about. 
Let's go back in time.  Last year we arrived to the Rio and picked up a conference bag packed to the brim with freebies.  The big networks like Hydra, Azoogle, and CX Digital, hosted plush parties such as  "Party Like A Billionaire" or "Party At The Hangover Suite."  Top advertisers threw decadent revelries – one spent over $900,000 on Dom Perigon at Club Excess.   Free trial offers were abundant – with minimum payouts of $50.   These were good times for the giants.
Fast forward to 2011.  This year we arrived to the Wynn, arguably the nicest venue in Las Vegas to hold a conference at.   After picking up our tradeshow bag, we noticed it was practically empty.   Hydra went out of business, Azoogle and CX Digital not only cut 3/4 of their staff, they also have $50 million dollars  in accounts receivable.  Wow, talk about poor accounting systems!   And then there's Clickbooth, haha, don't even get me started.
So what in the hell happened?   "Change" is what happened.  Big changes.  And they can all be traced to 3 things:
1.  Disruptive Technology:
The barrier to entry for new affiliate networks went from $15,000 all the way down to $200.  HasOffers hit the scene and took no prisoners.  This software platform allows anyone to start a network – not always a good thing considering some of the people in this space.  Nevertheless, the top affiliates in the space got wise to the game.  Who needs a network like Clickbooth afterall?  Without affiliates, ClickBooth and other networks are out of business.  
2.  The Rise Of The Mini Network:
The top affiliates started leaving the big networks and started their own "mini-networks."  These mini-networks are comprised of the top affiliate marketers in the world.  Instead of staffing hundreds, they're very lean.  From an advertiser's perspective, you can cut the middleman (big Network) out of the equation and save money on CPA fees.  Plus there's no fraud because these mini-networks have direct relationships with their publishers.  BTW, on the traffic sources page, I list the top mini-networks.
3.  Diversify or Die: 
Do you know what the tell tale sign of a dying affiliate network is?  Walk up to a booth and ask: "so what do you guys do here that makes you different?"  If they answer: "We're a CPA Affiliate Network and Have The Highest Payout" then there's just one thing to do: run as fast as you can in the opposite direction.
Neverblue, Copeac, Clickbooth, CX Digital, Epic Direct, Max Bounty, etc., they're all the same, and they're all laying off staff big time.  The mini networks such as Health Converter, Ads Direct, and Pirannah Media focus on a niche.  The value they create for other's is what's making them rich and the giants poor.
Next year I don't expect to see a lot of the former giants exhibiting at ASW.  Instead I think we'll see more company's exhibiting that offer value added services.  What do you think?