The other day I posted a story on why tier-1 advertisers avoid affiliate networks.  One of the responses I received was from Jamie MacMillan, an employee at LinkShare.  Jamie noted: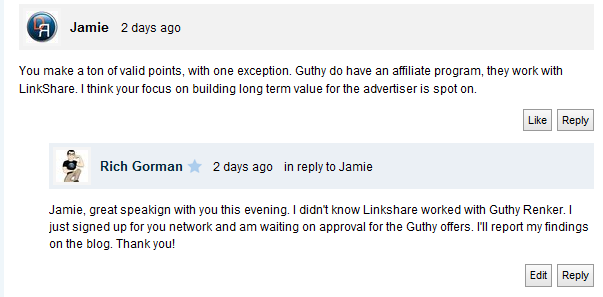 This caught me by surprise as I have my finger on the pulse of the health and beauty vertical.  Why is it then that I had never seen any of Guthy's offers on the major media buy channels in the past 6 months?   Moreover, I work with the largest publishers of skin offers, surely a company like Guthy Renker would have caught my eye.
Jamie and I hopped on Skype to discuss LinkShare and Guthy Renker.  For those of you that don't know, LinkShare has hundreds of thousands of affiliates.  Their model is to create massive distribution through a myriad of channels.  This type of model is one that I am not a fan of whatsoever. 
After all, why have thousands of affiliates when you can have 2 or 3 affiliates that can easily push just as much volume if not more.  As we all know, having thousands of affiliates is one big, gigantic headache.  You spend your entire day policing guys that shouldn't have access to your offers in the first place. 
So why did Guthy Renker move to LinkShare to host their affiliate program?
My guess is that Guthy Renker wanted full transparency with it's affiliate program.  LinkShare offers just that.  Guthy can see every one of LinkShare's affiliates, has full access to reject leads, and has the ability to approve affiliates on a case by case basis.
Hmmmmmm.  Weird, because I reached out to the largest skin care publishers in the industry and asked them if they were running Proactiv.  Nope, no one was running it.  Instead everyone is running offers like Hydroxatone, which pay enormous $45+ CPAs on their trials. 
Jamie emailed me the payouts for Guthy Renker's Proactiv.  Take a look: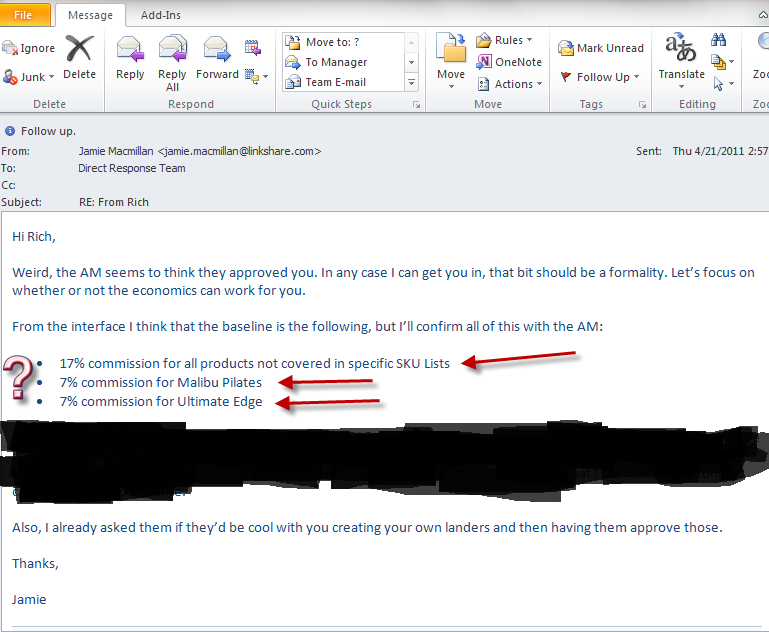 WTF – 7% commissions on products that sell for less than $100 bucks?   Is that some kind of sick joke.  It's no wonder that none of the big guys are running their offer.  Sure, 1sy 2sy publishers might add  banners  to their low traffic sites, but at that payout it doesn't matter how branded Proactiv is, it won't get good distribution online.
Jamie is a smart, straight up dude.  He wanted me to tell it how I see it, there you go.  LinkShare is a huge company and one of the 3 largest affiliate networks out there.  I commend them for their level of transparency and compliance.  Nevertheless, I do not believe in their model.
Guthy Renker ought to retain an online ad agency that focuses on the health and beauty vertical.  I recommend:
1.  Chief Media – The Agency For p90X, Hydroxycut, and Xenadrine
2.  Health Converter – An Affiliate Network turned Ad Agency, Health Converter now exclusively services Inc. 500 Health & Beauty brands online.
Guthy Renker needs new direct response landing pages, creatives, and presale pages.  With the resources Guthy has at it's finger tips, I could easily hit a few thousand leads a day.  I'd likely bring them to one of the largest ad networks and work out a CPA deal – ad networks will do this with million dollar + deals. 
Fact: Guthy Renker's products are sold on a continuity basis.
Fact: Skin care products have the highest rebill rates of any product line in the Health & Beauty space.
Fact: Branded products such as Proactiv are so much easier to convert than non-branded products.  If Guthy offered a competitive CPA, they would own the digital market.  Hyperbole aside, Guthy could hit a few hundred million dollars a year online if the tightened up. 
P.S. It goes without saying that CJ, LinkShare, and ShareASale attract a number of tier-1 advertisers.  While these models work for branding purposes, they are certainly not good direct response channels. 
P.S.S.  Online Direct Resposne marketing is awesome for branding.   It is so much easier to engage an audience online than it is offline.  With small budgets you can reach millions of eye balls daily, as I showed you last week with an adwords campaign I'm running that had over 1,000,000 views for $600. 
With a large budget just imagine the level of branding and distribution and advetiser can receive.
————————————————————————————————–
Crush Your Competition.  Build Your Own Direct Response Campaign With Us.
Contact Us Directly: [email protected]/backup_22092016