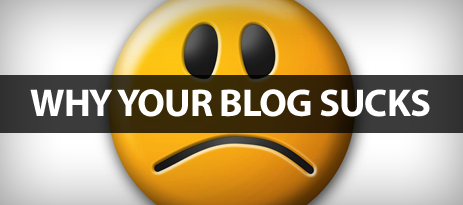 Just a quick tidbit.  Lately I've been spending time reading different blogs – mostly just the ones on my blogroll.  I noticed a lot of wanna be bloggers post comments religiously – with backlinks to their blog.  Most of their comments seem pretty lame.  So why are they commenting?  There's 2 reasons:
1.  Create an authoritative backlink in hopes of achieving a higher ranking on Google.
2.  Gain free exposure in order to get people to buy whatever the hell they're selling.
Sure enough, I noticed the same faces popping up every day with links to their blogs.  I decided to check a few of them out.
After clicking on a dozen or so, I came to the determination that 99.9% of bloggers suck at life.  Most of these guys are attempting to make a living off their blogs.   The problem is that they have no real life experience in marketing.  If you were to ask them how many campaigns they've built, or if they've ever ran the backend of an offer, placed a large media buy, or hit a few million inboxes in a day, their answer is likely no.
One pundit blogger noted that they were qualified because they graduated from an Ivy League college.  Who gives a shit dude?  Most Ivy League kids go on to become corporate drones – and the minority that make it big never qualify themselves as trustworthy by mentioning their alma mater.  In fact, the moment I hear someone use a college credential to add credibility, they lose all credibility with me.
Yea yea, I had a small stint at Harvard's graduate program – which I quickly identified as a considerable waste of time and dropped out.
To be a good blogger you need to create real value to your audience.  The main reason I blog is to my share ideas and meet great people.  If I were to get killed in a car accident tom. a lot of useful knowledge I have to offer the world would go with me.  What's the point be of keeping all of my trade secrets confidential?  There's no greater reward than helping a fellow human being.  Life's too short!
Ok, to those bloggers who are "politically correct."  Death as a blogger is cast upon you.  As far as being conservative when blogging, sure go ahead, you just earned yourself an award for mediocrity.
You've gotta be willing to put it all out there – and write like you talk.  If you feel like saying fuck or shit, say fuck of shit.  Who cares.  Oh Google's gonna penalize you for speaking naturally?  Then fuck you Google 🙂
Blogging is a great hobby and lately I've made a lot of money off of it.  That wasn't my goal when I created this blog though.  I built Direct Response for an elite internet marketing group, with guys like Zac Johnson, Rick Del Rio, Peter Nguyen, and Ian Fernando as part of its network.
As it turned out a bunch of people started reaching out to me and asking for assistance with their campaigns.  While I can't take everyone on, I've found some pretty interesting projects that are turning out to be huge money makers.
Are you adding true value to your readers or clients?  If so, the money will follow.  If not, go out and get some real life experiences before you decide to write about a topic.  Remember, the ultimate spam blocker is a human being 🙂