How would you like to have full control of your destiny in the online direct response space?
To put it bluntly, chances are you'll never get to enjoy that.  99% of advertisers fail at vertical integration.  For the lucky few of us that make it work, there's 2 words that come to mind: ABSOLUTE FREEDOM!!
See the beginning stages of running your own offer involves outsourcing the bulk of the work.  Manufacturing, fulfillment, customer support, traffic, monetization, etc. etc.  Every company you outsource to is making a margin.  Those margins wear down your bottom line.
Once you start figuring out how your vendors operate, start vertically integrating 1 area at a time.   Start with what's easiest and work your way backward.  Don't make the mistake of trying to vertically integrate everything at once.  Instead master 1 facet at a time.
When your run into road blocks reach out to other people in the industry and ask for help.  One of the greatest ways to start building contacts is to attend as many trade shows as you can.  All relationships and deals are made at the parties.  Find those parties and focus on building a few key relationships.
i.e.  Last night a group of bankers, affiliates, and advertisers I've known for awhile rented out the VIP section of a prestigious lounge.  It was there we bounced ideas off of each other and sought feedback from one another.  This is where ideas come from.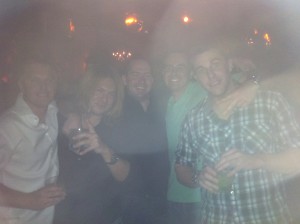 P.S.  Some random wannabe thugs tried to jump Rob and I on the way back to the hotel.  What they weren't expecting is that Rob directly responded with "alright, let's step off over to this ally vs. the street cause we're gonna fu*k you up."  The dude that tried Rob looked like he saw a ghost and literally took off.  AWESOME Rob!!